Snapper lawn mower Guide: a side discharge, rear

discharge

or mulching mower deck?
When in the market for a ride-on lawn mower, one must consider the various cutting options available. These include a mower deck with side discharge, rear discharge, or mulching capabilities. However, determining the most suitable method for your garden can be quite the task. It is essential to conduct a thorough analysis of each technique's benefits and drawbacks to make a well-informed decision. Here is a comprehensive breakdown of the primary advantages and disadvantages of each cutting method. 
Continue reading to explore Snapper lawn mowers and how they can be the perfect fit for everyone!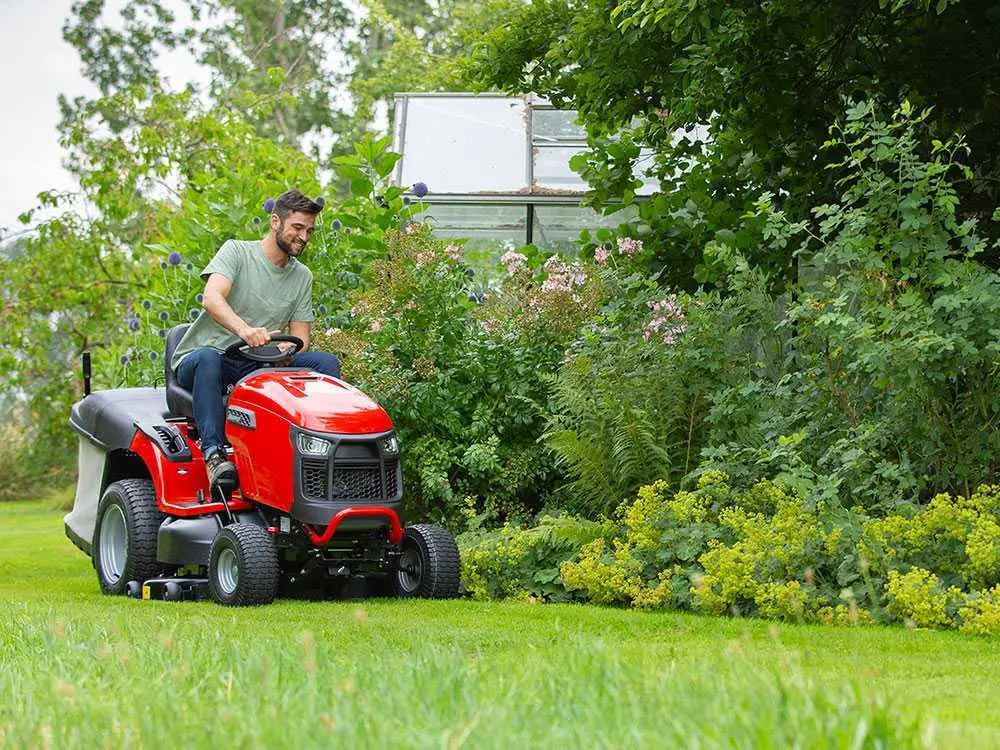 Side discharge mower deck
The grass clippings are efficiently discharged from the mower deck's side through a chute that is conveniently positioned on the right side of the deck. 
The main advantages of a side discharge mower deck
When it comes to mowing your lawn, you want to make sure you are equipped with the right tools. One great option is a side discharge mower deck. These decks are designed to prevent clogging, which can be especially helpful when dealing with longer or wetter grass.
By evenly distributing grass clippings, you will be able to achieve a more uniform look for your lawn and avoid the need for excessive raking or bagging. It is a simple but effective way to keep your lawn looking its best. 
The disadvantages of a side discharge mower deck
The utilisation of a mower deck with a side discharge feature results in the expulsion of grass clippings from the chute at a high speed. This may cause an untidy appearance on patios, driveways, and flowerbeds due to the clippings and other debris that may be present on the lawn.
Moreover, this may also lead to the growth of unwanted weeds in such areas. To avoid any such inconvenience, it is suggested to mow in one direction only when dealing with obstacles like flowerbeds, fences, or parked cars to prevent any grass clippings from being projected towards them.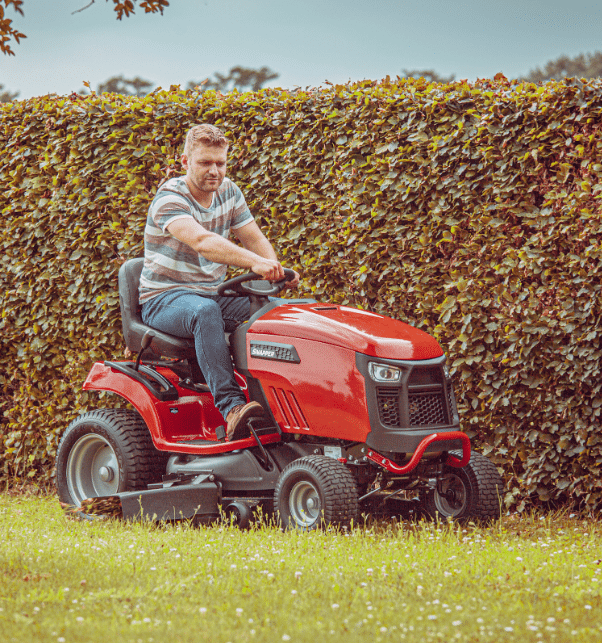 Rear discharge mower deck
The design of this particular deck is intended to expel cut grass from the back of the lawn mower. 
The main advantages of a rear discharge mower deck
The chances of your flower beds or patio getting covered in grass clippings are close to none, thanks to the rear ejection feature of the mower.
With no chute to hinder your movement, you can effortlessly manoeuvre around obstacles and tackle them from any angle, making the task more efficient and time-saving. 
The main disadvantage of a rear discharge mower deck
Not the best option when it comes to mowing long or damp grass as the accumulation of clippings can obstruct the deck. Additionally, a mower deck that discharges from the back could result in unsightly rows left behind.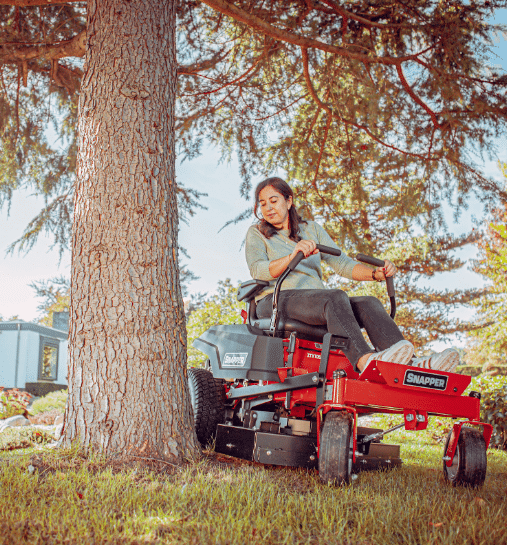 Mulching mower deck
The engineering of a mulching mower deck involves finely shredding grass clippings into minuscule fragments, subsequently dispersing them uniformly throughout your yard. 
The main advantages of a mulching mower deck
The natural decomposition process of the freshly cut grass on your lawn provides essential nutrients that promote healthy growth. This organic fertilizer reduces the need for additional chemical treatments and helps maintain a lush, thriving lawn.
Additionally, the small size of the clippings eliminates the need for time-consuming clean-up, allowing you to enjoy your lawn without the hassle of constant maintenance. 
The disadvantages of a mulching mower deck
For optimal outcomes, it is recommended to maintain a consistent mowing schedule of one to two times per week.
However, it is imperative to note that mowing damp or tall grass may lead to a build-up of clippings on the mower deck, resulting in an uneven distribution.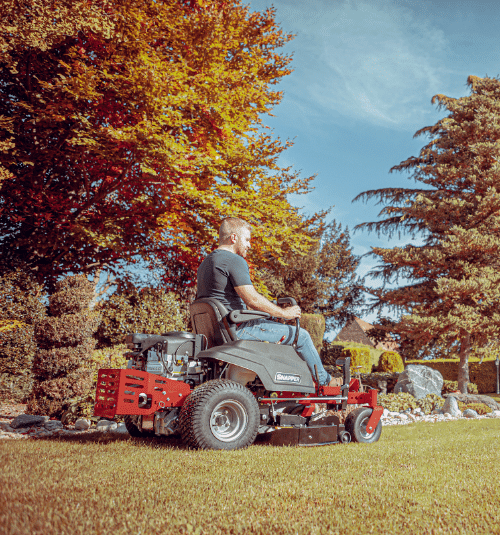 If you are in the market for a new mower, it is important to consider the type of deck that will best suit your needs. For those with a large mowing area and no concern for flying clippings, a side discharge deck might be the way to go. However, if you have obstacles like flower beds or fences to navigate, a rear discharge deck could be a better choice.
Alternatively, a mulching deck may be more suitable if you are hoping to keep your lawn looking healthy and lush with frequent mowing. Ultimately, your decision should be based on your personal preferences and the unique characteristics of your lawn. Take factors like lawn size, mowing frequency, and grass type into account before making your final choice. With the right deck, you can ensure a perfectly manicured lawn that will be the envy of your neighbours. 
Serious expert support
At Penen Services, we are committed to providing top-notch support to our customers. We understand the challenges of choosing the right lawn mower, especially with the multitude of options available in the market.  
Our team of experts is dedicated to helping you make an informed decision and find the perfect Snapper lawn mower that fits your specific needs. We have extensive knowledge about Snapper lawn mowers and can assist you in navigating through the different features and models, from push mowers to riding mowers and beyond.  
We take the time to understand your individual requirements, including the size of your lawn, the terrain, and any obstacles that may impact your mowing experience. Our priority is to ensure that you get the maximum benefit from your Snapper lawn mower and achieve a healthy, well-manicured lawn.  
Whether you're a homeowner looking for a reliable lawn mower for your backyard or a professional landscaper in search of a powerful tool for your business, we are here to provide you with the support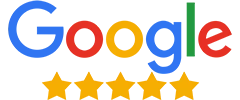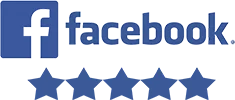 Our Service Guarantee
Penen Agricultural Services pride themselves on their customer service and quality of products. All of our equipment undergoes a thorough safety and mechanical check. You can rest assured that you are receiving quality equipment at the best price and that you'll be looked after Penen Agricultural Services.
Opening Times
Monday to Friday 8 - 5
Saturdays 8.30 - 12

Out-of-hours demos and appointments by arrangement.